Commercial Helical Piles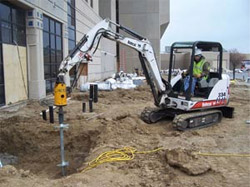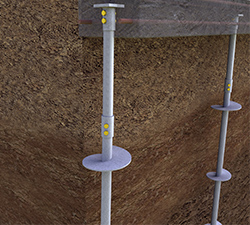 Helical Pile Systems are an extremely versatile new construction deep foundation alternative, used within grade beams supporting heavy commercial and industrial column and wall loads.
Helical piles can be installed with hand-held equipment, mini-excavators, skid steers, backhoes, or trackhoes, so the installation equipment can be sized for the project. Helical piles can also permanently stabilize sinking or settling foundations.
The piles are mechanically advanced ("screwed") into the ground to appropriate depths and capacities and heavy-duty, L-shaped steel foundation brackets are connected to the tops of the helical piles and installed against the footing.
The weight of the existing structure is then carefully transferred fromugh the piles, to competent soil or bedrock.
ADVANTAGES
Helix blade configuration selected to achieve design depth and capacity
Can be installed in areas of limited or tight access
Installs quickly
Installation does not generate spoils
Vibration-free installation (unlike driven piles)
Concrete can be poured immediately following pile installation
Available with optional hot-dip galvanizing for added corrosion protection
Cost-competitive compared to other deep foundation alternatives.
Looking for a price? Get a no cost, no obligation free estimate.