French Drain Tile System in South Dakota
Disadvantages of Old-Fashioned French Drains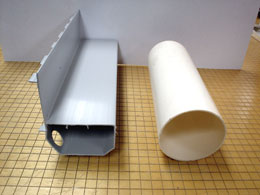 WaterGuard® with flange on the left
vs old-fashioned French drain pipe on the right
The disadvantages of old-fashioned French drain, or drain tile, systems are numerous. In basement waterproofing applications, they must be installed deep in the ground at footer level. This often involves removal of porches, decks, sidewalks and shrubbery. Underground electrical wires, water lines, sewer pipes, gas lines and other below-grade utilities can be quite dangerous and can provide great complications during installation. You don't really want to create another problem as a result of the one you're trying to fix.
Here at Basement Systems , we provide waterproofing systems that install without invasive excavation and work to keep your basement dry all the time! Contact us today for a free basement waterproofing quote!
Our South Dakota service area includes Pierre, Rapid City, Aberdeen, Watertown, , and surrounding areas. Call or contact us online for the best French Drain waterproofing system available. We offer free French drain quotes and inspections in South Dakota.
Even in the case of a successful installation, these type systems may have a limited, even temporary effective lifespan. Any time the soil is disturbed, it invites soil erosion. In the case of a deeply placed French drain, groundwater passes down through the freshly dug soil on the way to the drain tile, picking up sediments and debris. This loose, muddy water entering the drain tile can cause it to become clogged after prolonged use.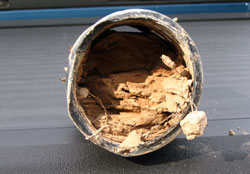 Care must also be taken to avoid digging too close to the foundation or delving lower than the footer level. Systems installed below footer level can cause undermining of the foundation's support. This can cause further settling of the foundation and may lead to structural damage.
At Basement Systems we install our drainage system along the interior perimeter of the basement, with no excavation or potential damage to the foundation. Our drainage system does not clog with sediments or debris, and, unlike other interior perimeter drains, it will not leave a 1" open gap along the basement floor.
Looking for a price? Get a no cost, no obligation free estimate.