Sump Pump Installation South Dakota
Sump pumps are a key factor in keeping your South Dakota home safe from floods. Quality pumps can quickly remove water from your basement to prevent a damaging flood. You don't need to go another day without a hard-working basement sump pump.
Get a free sump pump installation quote today by calling us or contacting us online.
Using a Sump Pump
A sump pump can remove water from your basement by pumping it out through a pipe when it floods. They are usually used with drainage systems that run around the inside of your basement. The drain guides the water to the sump pump, which is installed in the floor, and the pump then pushes the water outside. Basement floods can be prevented with a sump pump.
Sump pump quality can range from cheap, unreliable models that plumbers install to cast-iron quality Zoeller pump models that Basement Systems can install for you. When you need a plumber to come back every time it rains to pump out your basement that flooded because of a failed sump pump he installed, you need something better. There are a number of old, ineffective sump pumps that are still available on the market today.
Backup Sump Pumps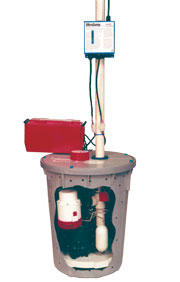 Rain storms can be stronger than expected. A light mist can quickly turn into a strong storm! What if your sump pump can't handle the job? What will happen if you lose electricity in your house? A light spring shower can become a torrential downpour very quickly! Battery-powered backup sump pumps can mean the difference between a clean, dry basement and a basement under water. It's even more helpful if your sump pump has a second pump built in to help out the first. It's always safe to have a battery backup sump pump that can take over if your pump fails. Having a battery-powered backup pump can mean the difference between a dry basement and a flooded one. It's especially helpful if the sump pump you use has a second pump built in for when the first pump can no longer handle the job. To let you know there's water in the basement, our patented WaterWatch alarm will sound when the pumps turn on. With dual discharge lines, a strong liner and an airtight floor drain, this sump pump is at the top of its class.
Basement Systems can provide a variety of other pumps. Try our SuperSump Premier Sump System. Along with a powerful and reliable pump, it has our WaterWatch alarm and patented SuperLiner with airtight lid. Our SmartSump is the perfect choice for your crawl space. This efficient pump is specially designed for your crawl space with a unique liner, automatic float switch and two-piece airtight lid. The UltraSump battery backup system will give you added protection.
A sump pump is central to water proofing your basement. Basement Systems can help you find the right sump pump for your South Dakota home. Whichever sump pump you want, you can breathe easy knowing you're getting the best from Basement Systems. Get your FREE sump pump estimate today for Sioux Falls areas by calling us or visiting us online. Let Basement Systems help you with all of your South Dakota sump pump needs.
Looking for a price? Get a no cost, no obligation free estimate.