WaterGuard®
What causes basements to leak?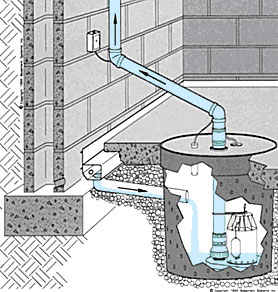 Hydrostatic pressure is the primary reason basements leak. Surface water saturates the soil around your home causing water pressure against the foundation, which then pushes water through the pores, cracks, and joints in the concrete walls and floor. The permanent solution: a waterproofing system by American Waterworks.
The system works like this:
Small holes called weep holes are drilled through the basement walls near the bottom.
Water that would have seeped through the walls now drains through the weep holes into the Waterguard® system, which lines the walls at floor level.
The water is collected and drains into the SuperSump™, where it is pumped back outside.
We also install sump pumps and BriteWall® waterproof panels.
Looking for a price? Get a no cost, no obligation free estimate.