Foundation Repair in South Dakota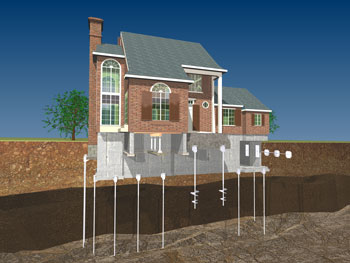 Basement Systems of South Dakota is a provider of top-quality services for foundation repair and support. As leaders in the industry, they have proven themselves time and again with their powerful and effective foundation repair solutions.
Basement Systems's structural engineers and contractors specialize in foundation earth anchoring, crawl space piering and reinforcement, helical pier installation, foundation wall anchor installations, push piers, and other foundation support solutions for failing or weakened home foundations.
When a foundation first begins to fail, the problems can seem to be only a nuisance. A homeowner may see some small cracks in the plaster or drywall in their home, or a window or door may begin to stick.

However, the symptoms of a failing foundation will become more and more alarming as the damage worsens, including sagging chimneys, bowing foundation walls, and large, dangerous-looking cracks appearing across the walls. If ignored, the problem will continue to worsen even more, sometimes even leading to the complete failure of the foundation.
When a home foundation begins to fail, the only good option is to repair it. The problem will never go away, and the market for a home with a failing foundation is poor at best, with buyers only interested if the price is drastically reduced. The best time to repair your foundation is immediately!
Having a home with a damaged or compromised foundation can be a very frustrating problem, and Basement Systems's foundation contractors are dedicated and experienced with making this a simple and permanent solution. They provide free foundation repair estimates in South Dakota (including Aberdeen, Watertown, Sioux Falls, Miller, and Rapid City), and they'd like to meet with you for a free consultation.
Looking for a price? Get a no cost, no obligation free estimate.