Foundation Wall Anchor System
in South Dakota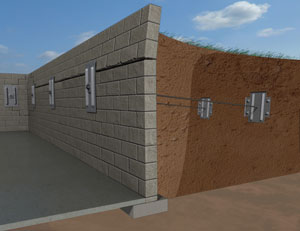 Foundation wall anchors can be installed on bowing, buckling foundation walls to restore and reinforce the wall's structural soundness and helps to prevent further deterioration to the walls structure by bracing the wall and potentially returning the wall to its original position.
Cracks form in South Dakota foundation walls due to pressures from the earth around the foundation. As they increase beyond the load-bearing capacity of the foundation's structure, the pressure can force the walls inwards that damages and weakens the walls and reduces their ability to continue to support the weight of the home.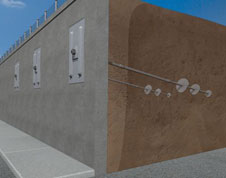 Foundation Supportworks Helical Anchor System are the best and most reliable alternative to removing and rebuilding South Dakota foundation walls. Replacing foundation walls is an expensive and invasive solution that disrupts the home and usually does not address the foundation conditions that caused the original damage. Foundation wall anchors are provided to homeowners as a space-efficient, non-disruptive and less costly alternative to alternate wall bracing systems in the industry.
Wall anchors are designed with interior wall plates, earth anchors on the exterior side of the foundation, and a steel reinforced rod that will correct and reinforce the foundation wall structure. As the anchors are installed along the foundation walls, minimal disruption of the landscaping will be necessary.

Most home designs will be compatible with these anchors, and they install easily without the need to remove gardens, walkways, decks, patios, swimming pools, or other landscaping along the home.
There are many more options available to a South Dakota (including Aberdeen, Watertown, Sioux Falls, Miller, and Rapid City) homeowner who has a basement, crawl space, or foundation that is experiencing cracking, bowing, or buckling walls. Wall anchors make a sound choice for a foundation wall repair system because they do not rely on the strength of the floor joint or existing structures for support or counterpressure.
Looking for a price? Get a no cost, no obligation free estimate.